Facilities
Beach Restaurant
Our restaurant provides all sorts of home made lebanese dishes (seafood speciality).
Night Club
Malibu Bay Nightclub is always ready for a special event to accommodate 400 guests.
Sport Cafe
Just the place if you want to be sure to catch the game, especially if it's a cue game.
Olympic Swimming Pool
Olympic swimming pool, it's a great place to spend time on a sunny summer day.
Terrace Area
Enjoy your morning coffee while watching the sun come up from behind the mountains.
Tennis Court
Playing tennis under the mid-day sun is a great way to break a sweat and enjoy a beautiful day.
Basket Ball Court
Play outside and you will get used to it, how about a basketball game on the beachside.
Children Pool
while you relax, let your little ones enjoy cooling off in a children pool, and they will play for hours!
Children Playground
Let you kids laugh, scream and enjoy each other's company in a safe environment.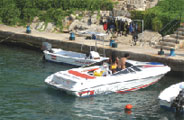 Boat Parking
Coming to Malibu Bay by Boat, why not? park your boat in a safe dock, directly in front of the resort.